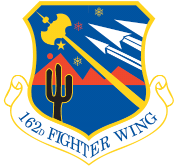 162nd Fighter Wing, Arizona National Guard
TUCSON
Located at the Morris Air National Guard Base next to the Tucson International Airport, the 162nd Wing is home to the Air National Guard's premier F-16 fighter pilot training unit and is one of the largest Air National Guard wings in the country.
The 162nd is the "face of the United States Air Force to the world," providing the best-trained coalition war-fighting partners for the United States Air Force. The wing has trained pilots from 25 countries that fly the F-16 today while developing strategic partnerships and building strong international relationships. From Davis-Monthan Air Force Base, the wing also operates a 24/7 alert detachment to provide a rapid reaction force ensuring air sovereignty over the Southwest. Also located at Davis-Monthan and Fort Huachuca, the Wing oversees the 214th Attack Group, which flies the MQ-9 Reaper remotely piloted aircraft, which flies daily combat missions, providing troops on the ground with around the clock intelligence, surveillance, reconnaissance and precision attack
The Air National Guard's federal mission is to maintain well-trained, well-equipped units available for prompt mobilization during war and to provide assistance during national emergencies (such as natural disasters or civil disturbances). During peacetime, the combat-ready units and support units are assigned to most Air Force major commands to carry out missions compatible with training, mobilization readiness, humanitarian and contingency operations such as Operation Enduring Freedom in Afghanistan.
When Air National Guard units are not mobilized or under federal control, they report to the governor of their respective state or territory. Each of the 54 National Guard organizations is supervised by the adjutant general of the state or territory. Under state law, the Air National Guard provides protection of life, property and preserves peace, order and public safety. These missions are accomplished through emergency relief support during natural disasters such as floods, earthquakes and forest fires; search and rescue operations; support to civil defense authorities; maintenance of vital public services and counterdrug operations.
ECONOMIC IMPACT
$383.6 billion | 2,496 jobs
162nd Air Guardians
Started in 1993 by a group of local business leaders, coined the 162nd Fighter Wing Minuteman Committee at the time, they quickly focused on ensuring the Wing was able to keep their flight training mission. Through the years, the group's name has changed but the mission has not.
At present, the 162nd Air Guardians is comprised of local business leaders that are passionate about the Wing's mission and supporting the citizen Airmen that keep it going.
The 162nd Air Guardians believe that the 162nd Wing is a valuable national asset and is ready to take whatever action is necessary to ensure its survival.
Other Installations